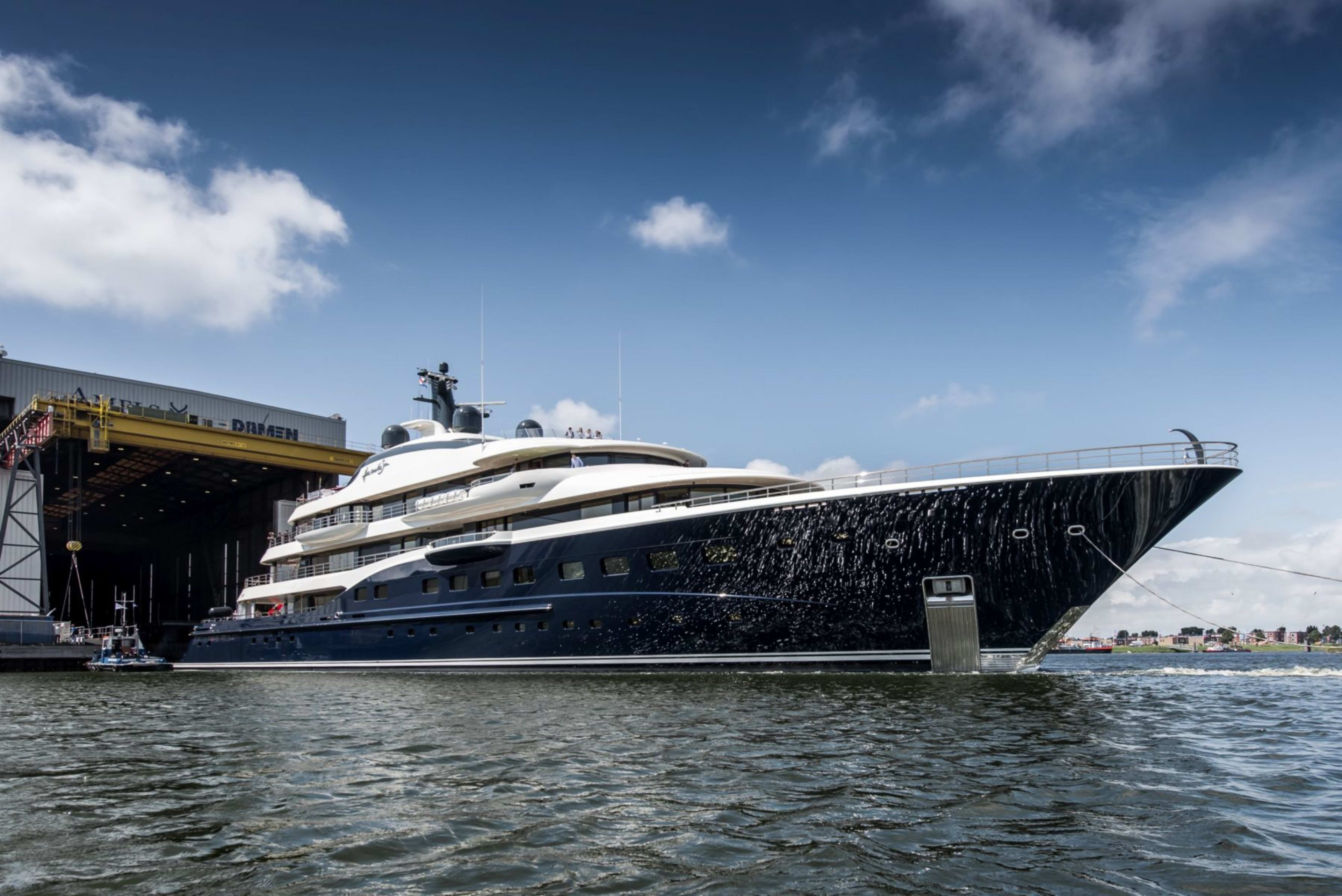 news
31 July 2021
Amels Refit HERE COMES THE SUN Unveiled
A year after arriving at Amels and Damen Yachting shipyard in the Netherlands, the Amels refit HERE COMES THE SUN has been successfully launched following a large scale rebuild. In a milestone moment for the largest Amels delivered to date, the now 89-metre HERE COMES THE SUN unveiled her stunning new colour scheme and extended length.
Originally delivered in 2017, the Tim Heywood designed HERE COMES THE SUN returned to Amels and Damen Yachting in 2020 under new ownership for an extensive refit. Not only has she undergone a full respray with colour change, there have been a number of significant design modifications. These include an extended Sun Deck aft now with helicopter landing area, extended Bridge Deck Aft accommodation to allow for 2 VIP suites with exterior balconies and alterations to a number of deck and interior areas and layouts. The 6-metre extension to the Main Deck Aft also provides a larger beach club, spa facilities and a large 7-metre swimming pool.
Captain Colin Boyle comments: "there's been great excitement amongst the Owner's Team and Crew in seeing such a complex project come together over the past year. The yacht's Owners have been fully involved with the restyling of every aspect of the exterior, and her new sleek lines and curves complimented by her bold colour scheme has certainly not disappointed. Nothing on paper or the occasional glimpse of a section in dry dock could have pre-empted the full effect of seeing her emerge onto the waters of Vlissingen in glorious sunshine. She truly is a spectacular superyacht!"
Damen Yachting Project Manager Sander Peeters, has worked closely with the Captain and Owner's team during the refit. "A rebuild of this scale and complexity has required a very dynamic approach and good, open communication has been key. The Captain and Owner's team's operational approach has been a big contributing factor to the progress of this time critical project. Seeing her head back outside for the first since all the works started is a wonderful moment, achieved by the teamwork of all those involved."
The refit of HERE COMES THE SUN is an excellent example of the real value in returning to the original builder. The engineering and production teams' knowledge of the yacht from the build has been key for a rebuild of this scale. The strength of the Damen Shipyards Group resources and experience has also played its part having been tapped into for the fabrication of the Main Deck aft section. And for the refit design and naval architecture, the Owner appointed the yard's original partner for the naval architecture, Azure Yacht Design, to re-pen this iconic Amels from 83 to 89 metres.
Damen Yachting Sales Manager Michel Coens explains what this refit launch means to the shipyard. "Welcoming any of the fleet back to the yard is always done with pride but for HERE COMES THE SUN, it runs even deeper. She represents the first step back towards full custom and bigger projects. Many of the same craftsmen and women who were meticulously involved in the original build have been working on her during this refit, remoulding and reshaping her into the new masterpiece she is set to become. Her launch is a very proud moment  Her additional length and brand new colour are stunning and we look forward to the final stages of the refit now coming together for delivery to her Owner later this summer."